ImOn for Iowa City!
Hear why having local people building your Internet connections, installing your service, and providing customer support makes all the difference for your Internet experience!


"My name is Brandi and I am an ImOn installation technician. I get the joy of going into peoples' home and helping them get connected. I hear all kinds of interesting stories, see awesome collections, and pet the best dogs and cats."
"I have seen and experienced "Iowa Nice" and I'm proud to work for a company that exemplifies that. You know when you call ImOn that you're getting a neighbor on the phone. Someone who knows what the weather is like outside and about the new taco place that opened up down the street, and also someone who could be experiencing the same issues that you are because they have the same service as you."
"I am proud of this company every day!"
- Brandi, ImOn employee since 2019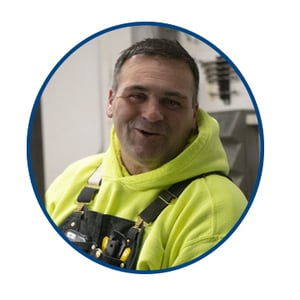 ---

"I'm an ImOn Fiber Optic Installer. My job enables me to work throughout the community to provide services to local neighborhoods and businesses."
"We are constantly maintaining and upgrading our network to provide the most reliable service. Our service is very reliable and we are prompt to fix customers' issues when they arise."

"I am proud to be a part of a company that comes together to fund raise and volunteer for our community! I think being a local company is a big deal, when customers call in they like knowing that they are dealing with individuals in their area. It makes them feel a little more confident that the service provider is going to do what it takes to please them. "Communities work together" I feel this is why customers feel this way."
- Mike, ImOn employee since 2011




Be the first to know when ImOn fiber-to-the-home Internet service is available in your neighborhood - fill out the form below:
---
Working for you night and day - that's the ImOn difference:
We get genuine satisfaction from taking care of our customers. That means we do things a little differently than most communication companies. We start by providing positive customer experiences at all touch points, and take a more personalized approach to serving our customers. We love what we do, and appreciate the neighbors we serve.

Benefits of Fiber-to-the Home Service:
ImOn fiber-to-the-home technology is the fastest and most reliable way to access the Internet. It provides a seamless, nearly instantaneous connection so you don't have to worry about buffering, or pages taking to long to load.

Newer Technology:
The difference between copper and fiber has been likened to the difference between the telegraph and telephone. Fiber to the home uses fiber optic cable that contains strands of glass, thinner than a human hair. It carries digital information over long distances using pulses of light, instead of electricity, like traditional copper.



Speed:
Internet over ImOn fiber-to-the-home is noticeably and measurably faster. In fact, ImOn offers speeds up to 1 Gig (1,000Mb)! Plus, the Internet connection is not shared with your neighbors which means no more bottlenecks or slowdowns during peak hours. You will be able to share photos, videos, work from home, and do online gaming without a second thought. No more video buffering or waiting for your files to download

Bandwidth:
With fiber-to-the-home, slow or lagging Internet becomes a thing of the past. Light is efficient, so fiber cables carry more information – thousands of times more than copper wire. That means you won't notice any slowdowns during the peak times of day when your neighbors are on the internet too.

Reliable:
Fiber to the home technology is pretty much immune to many of the factors and interference's that affect copper cable. Also, it won't falter under harsh weather conditions and electrical surges. That all adds up to less downtime for you! Highest Reliability of Service. Plus, ImOn has a record of reliable service and was awarded the Best Local Internet Provider by the Corridor Business Journal 7 times.


Increased Home Values:
A recent study found that fiber-to-the-home may increase a home's value by up to 3.1 percent. And the great thing is that we install it for you.